When your best childhood friends are in town and demand to brunch like Bitches, the pressure is on. After some serious debate, I decided on Osteria Morini, since Italian is our favorite cuisine when we get together. We made our way to the southeast waterfront last weekend for brunch at this upscale Italian spot with locations in New York and Washington.
The decor at Osteria Morini gives off a modern Italian farmhouse vibe. The wood furniture, granite countertops, and orange and red hues give off a certain warmth. Plus, the spacious patio is covered with bright orange umbrellas and boasts a view of the waterfront. There is also a large, private room for parties. Despite the upscale decor, we noticed lots of families with youngsters—this place is not so stuffy as to be family friendly.
Osteria Morini has a tempting prix fixe brunch menu. You can get two courses (an appetizer and your choice of pasta, sandwich, or an entree) for $29 plus $5 mimosas or Bloody Marias. Or, add dessert for the three courses prix fixe at $33. We opted for the former—not sure we'd be able to each handle a personal dessert.
In need of a refreshment, Kristen and Elizabeth both insisted on the Bloody Marias. With Tito's Vodka, basil, calabrian chile, and balsamico, this Italian twist on a Bloody Mary is definitely not spicy. Rather the basil and tomato juice, made it almost taste like cold tomato sauce. They didn't order a second. I found the mimosas to be refreshing, although they could have used less OJ.
Large parties can also order brunch cocktails in carafes as well—this is a trend nowadays. I'm interested in trying the Prosecco mimosas with various juices and the white sangria in the future.
The basket of warm pastries we ordered never arrived, so we were quite hungry by the time our appetizers came. Elizabeth wisely chose the Burrata. This house-made mozzarella is topped with watermelon, hazelnuts, and a calabrian chili vinaigrette. It is simple, but insanely good. The fresh Burrata with the sweetness of the melon was delightful. It's a must-order if you're here for brunch and will be a strong contender for a Best Bites 2016 nod. Our only wish was that it would be served with bread to scoop up every bite.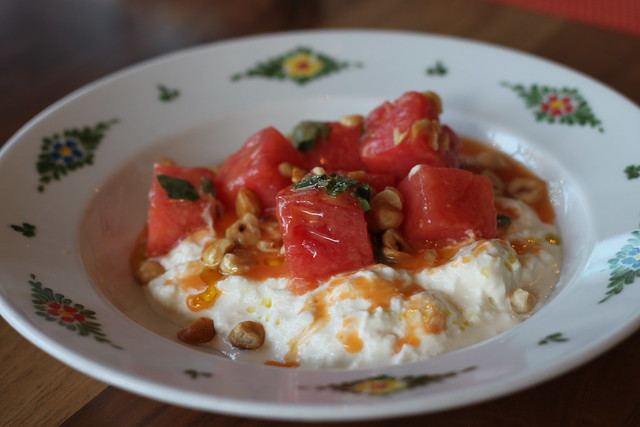 It wasn't until we'd polished that off that I noticed the adorable china pattern. It's a small floral detail that reminds me of something I'd find at my Italian grandmother's house. It's the little touches like this that give this place the comfort of home.
The Polpettine, prosciutto and mortadella meatballs baked in tomato sauce, looked pretty and tasted yummy. However, they weren't warm enough, leaving us feeling like they'd been left under a heat lamp too long.
I'm a sucker for a good cheese plate, so I was very happy with the Battilardo. It had an assortment of prosciutto di parma, sopressata, and parmigiano "gelato" with grilled bread. The parmigano in gelato form made it a very spreadable cheese. The unique texture, combined with prosciutto and jam, made for a pleasant mouthful of flavor. I'd definitely recommend this cheese plate as a shared appetizer for 3-4 people.
We all couldn't resist pasta for our main courses. Kristen had the rigatoni, topped with braised wild mushrooms, rosemary oil, parmigiano. I tried the classic gnocchi. Both were simple, but flavorful. The richness of the dishes made it almost impossible to finish it all.
Elizabeth ordered best yet again with the Cappelletti though. The truffled ricotta ravioli, melted butter, and prosciutto was decadent. We kept stealing bites off her plate.
Service was friendly but slow on this busy Sunday. Our waiter forgot one of our dishes, but that's probably for the best since we were stuffed after just two courses each. They seemed to be understaffed with this large a brunch crowd.
To work off the heavy brunch, we walked around Yards park; leaving happy and full.
The Bitches say: four Champagne flutes. Osteria Morini is a classic, hearty Italian spot in an upscale environment. It's perfect for family parties or a date on the waterfront. Don't miss the Burrata and the Battilardo!
Osteria Morini serves brunch Saturday and Sunday from 11 a.m.-2:30 p.m.