This Week in D.C.: April 23-29
April came and went, and without very much sunshine. We're hoping these April showers actually bring May flowers, so we can start our outdoor brunching, hosting, and exploring. Those who provide our favorite eats and activities are just as excited for spring as we are; here's what's going down in D.C. this week:
Monday
You should welcome this Monday with open arms. Take a minute, do something for yourself, and take a deep breath. Whether you have a chance to have a slow morning and cook for yourself, or get to leave work a bit early to make yourself a delicious, but low maintenance, dinner, our recipe for polenta egg bowls should be incorporated into your Monday plans. Find the recipe, here.
Studio Theatre is showing Translations, a play set entirely to the backdrop of a hedge school classroom in a fictional Irish village. The show will be playing until April 29th, and is a great way to enjoy theatre culture for a reasonable price. Tickets are just $20.00 for this amazing live performance.
Tuesday
Volo City is an adult sports league non-profit organization, benefitting leagues in each of its cities for kids ages 6-12 years of all genders, abilities, and races to play at zero cost to their families. They also partner with local organizations to provide free meals for younger players. Find a league, here.
Wednesday
Masa 14 has a Wednesday event each week that isn't to be missed: half-priced sushi and discounted (read: $6) cocktails with sake. It's the perfect dinner-and-a-cocktail mid-week treat that will help you get through the week.
D.C. Harvest has an experiential cocktail program where you can taste and learn how to make three cocktails. The experience also comes with an appetizer. You can reserve your experience through their website and make an evening out to dinner a little more special. We made our way over to H Street to try it out.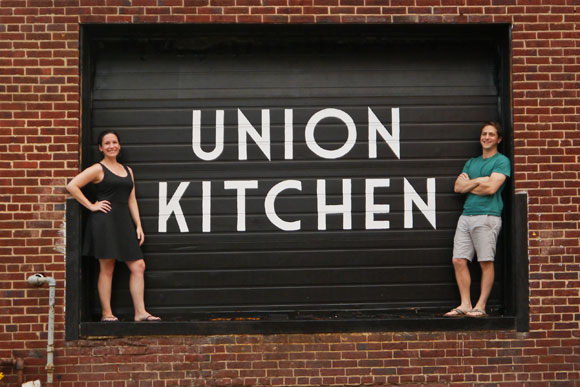 Thursday
Union Kitchen is hosting a happy hour and potluck where the public can meet makers, tour the production facility, and hear more about the Accelerator program at Union Kitchen. Bring a small dish to share; Union Kitchen will provide the drinks!
Every Thursday, Colada Shop will rejoice Cuban life with an all-night happy hour affair. Guests will have access to $6 cocktails and $2 empanadas from 4:00 p.m. to closing while listening to the beats of Caribbean tunes. Havana Nights will take place at both Colada Shop locations.
Friday
We already gave Joselito the title of our favorite brunch of 2017, but something you may not know is that it's also amazing for drinks, light bites, and dinner. Delicious appetizers and libations are only $6.00 during happy hour, but if that's not enough to get you on over to Capitol Hill, our review of their offerings definitely will.
Saturday
Iron Gate  has never let us down for brunch. The food, drinks, and atmosphere are one of a kind. As you start to plan your patio dining adventures throughout D.C., Iron Gate better be your list, and here's why. 
Sunday
Beefsteak presents Beefsteak & Friends, a Sunday afternoon rooftop event celebrating Beefsteak's Made In D.C. partners from 1 p.m. to 4 p.m.  Guests can expect items from Beefsteak's new spring menu, including the Avo-Toasty Bowl, Santorini Salata and signature Beefsteak and BEETsteak burgers, as well as bites from partners including DC's own Stachowski's Market, Little Wild Things City Farm, Tuscarora Organic Growers Cooperative, Souper Girl, and Dog Tag Bakery. Beverages will include Craft Kombucha along with wine and specialty cocktails. Guests will also create take-home planters with Bennett and Veterans Compost as well as utilize Beefsteak's veggie-themed photo booth.

While the Bitches Who Brunch write this post independently, compensation is received from partnerships with Studio Theatre, Masa 14, Volo City, Joselito, and D.C. Harvest.