D.C. Best & Worst Brunches of 2016
It's been an incredible year for Washington's restaurant scene, which grew in terms of the sheer number of restaurants, the diversity of cuisine and price points, and the neighborhoods offering up great food for the locals. However, we're most impressed by the increase in the overall quality of options—restaurants are upping their game and foodies nationally are taking notice.
Shaw is surely the mecca for our favorite brunch spots, giving us Hazel, Kyirisan, Convivial, Espita Mezcaleria, and the fowl-centric The Bird. Over on Capitol Hill, Navy Yard offers great options with Whaley's and its fresh seafood, pristine space, and hearty Southern food. The basic bros will enjoy Due South and you can bring your mother to Osteria Morini.
Restaurants are also getting more inventive: you can now shop at Mulebone and take in a distillery tour at District Distilling Co. For an upscale spot, we're still loving Blue Duck Tavern and the newly renovated and relaunched Kingbird at the Watergate Hotel, because a Bitch can't say no to a rosé Bellini.
We couldn't do all the brunching and the Bitching without our incredible D.C. team, our readers, and our partners. A huge thanks to you for your support.
So, happy holidays and it's time to start planning your 2017 brunch list. Be sure to stay tuned for our Best Bites of 2016 list as well! Without further adieu, here are our best and worst brunches of 2016.
The Best
Best Overall: Hazel
Brunch at Hazel is an experience, with 11 courses of creative American fare from Chef Rob Rubba, whose signatures seem to be pairing unique flavors (curried sweet potato doughnuts, zucchini bread with foie gras), and elevating junk food (tater tots with house-made garlic ketchup, bacon cinnamon rolls). We were constantly surprised by each plate that arrived—we never knew what to expect and loved each dish at the Dim Sunday brunch. The space is beautiful, and the service friendly and accommodating. Read our review here.
Best Party Brunch: La Boum at Capitale
We've long raved about La Boum Brunch as the premier party brunch in D.C., so we were nervous about its move to Capitale. The larger space gives you more room to dance, but doesn't lose the intimacy that La Boum is famous for. La Boum brunch is a must-do while you're young and in D.C. Read our review here.
Best Rooftop Brunch: DNV
Cool rooftops are hard to come by in D.C. And rooftops with a view, pool, and good food are virtually non-existent. That's why we loved spending a hot summer day at DNV's rooftop with refreshing cocktails, egg skillet dishes, and a dip in the pool. Read our review here.
Best Dog-Friendly Brunch: Dacha
The pups abide at Dacha beer garden. Bring your fluffy friend for a day out while you enjoy a Bullfrog Bagels sandwich and wash it down with a radler. You can spend all day soaking up the rays with friends here. Read our review of Dacha here.
Best Dim Sum brunch: Maketto. We may joke that Maketto is a hipster Mecca, but seriously you're going to want to make the pilgrimage here. The Vietnamese and Cambodian influenced dim sum boasts a dynamite char bao bun and the best fried chicken we had all year. Read our review here.
Best Mexican: Espita Mezcaleria
Life is muy bueno at brunch at Shaw hotspot Espita, which mixes up inventive Mezcal brunch cocktails in an an edgy space with industrial meets Dia de los Muertos vibes. The service was great, the tacos were OK, but the Migas, egg skillets, and Torrejas French toast blew our mind. Read our review here.
Best Italian: Osteria Morini
Pasta and cheese are two of a Bitch's favorite food groups. We went wild for Osteria Morini's upscale yet homestyle Italian fare. Don't miss the Battilardo cheese plate, the burrata, and the Cappelletti. Read our review here.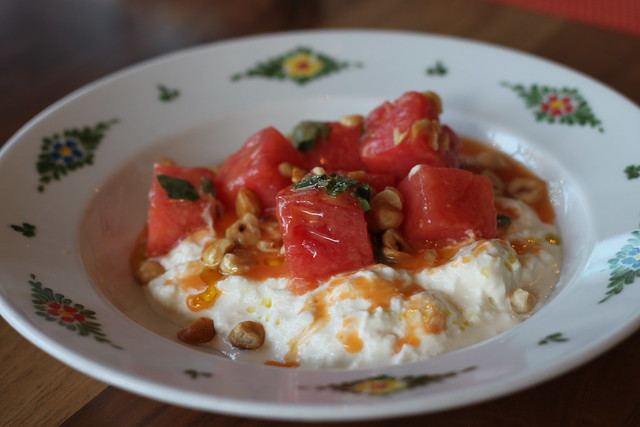 Best Farm-to-Table: Sally's Middle Name
The constantly changing menu at Sally's Middle Name puts an emphasis on what's fresh, seasonal, and local. The inventive dishes are always high quality and delicious, no matter the palate. Read our review here.
Best Tropical Getaway in a Brunch: Hula Girl Bar and Grill. If you're craving a vacation to the beach, but can't quite afford it, head to Shirlington for real Hawaiian vibes. The ahi tuna poke and plate lunches instantly transported us back to food truck picnics on Waikiki. Read our review.
Best Vegetarian-friendly Brunch: Zaytinya
We can't sing enough praises for Zaytinya and its many delicious options for vegetarians. This calming and upscale restaurant offers impeccable food, flavors, and service. We certainly had our list of favorites on the menu for which we would return, but we highly recommend the falafel burger, menemen and goat cheese Loukoumades. Read our review here.

Best Hotel Brunch: Kingbird at the Watergate
The Watergate got an oh-so-fancy facelift with a hefty price tag and relaunched with a bang. The space is snazzy, the service is fancy, and the cocktails incredible. We spent the afternoon drinking delightful rosé bellinis in an incredible ambiance—and those cinnamon rolls were heavenly. Read our review here.
Best Drag Brunch: STK
This drag brunch was a welcome change from the usual brunches in D.C. It didn't just feel like an occasion, but more of a celebration. It was a wonderful start to a fun-filled day with fantastic food, a festive atmosphere, and exceptional service. Read about the party brunch here.
Best Service: Cafe Milano
From the classic Italian dishes to the impeccable service, Cafe Milano is a treat. Whether you've been once or are a regular, you are treated like family. We'll never forget the service at Cafe Milano, it keeps us coming back to Georgetown for more. Read our review here.
Best Decor: The Riggsby
Color us impressed. The unique, glamorous, and vintage-inspired space is not what you'd expect from a hotel restaurant—and that's why we like it. Enter through a key hole door frame and post up at the hunter green bar for a craft cocktail. Read our review here.
Best Coffee Shop: A Baked Joint
This massive, modern coffee shop is a welcome addition to the ever-growing Mount Vernon Square neighborhood, offering solid coffee drinks with a substantial menu, and delicious house-made baked goods. Read our review here.
Best Roll Out Of Bed Brunch: Bistro Bohem  
Unpretentious, friendly, and quirky, this is one spot we frequent for brunch in yoga pants. We never thought we'd consider a central European restaurant to be our neighborhood go-to, but we're hooked on the comfort, ease, and reliable dishes at this neighborhood bistro. Read our review here.
Best Bro Brunch: Due South
The hearty Southern fare, large space to accommodate groups, not to mention the proximity to Nats Stadium clinches the bro brunch spot of the year for Due South. We even found ourselves lingering around to sample their impressive draft beer selection and it wasn't even baseball season. Read our review here.
Best Hangover Brunch: Sette Osteria
The lack of curb appeal makes it easy to overlook this Italian-American restaurant on 14th street. While the overall experience was nothing to write home about, the location, $15 bottomless deal, and sizable brunch portions make this an ideal spot for a little hair of the dog with your squad—particularly if there's a long wait at Le Diplomate. Read our review here.
Best Excuse to Brunch and Shop: Mulebone
A first of its kind to the 14th street corridor and to the D.C. brunch scene in general, Mulebone lures you in with a vintage shopping experience. Shop with a mimosa in hand while you wait for your table at this friendly, Southern spot. Read our review here.
Most Instagrammable: Junction Bakery & Bistro
Even the most amateur of 'grammers could snap gorgeous photos in this Del Ray locale. The Carrara marble round tables, traditional wooden Thonet chairs, and artsy tiled floor make for a perfect brunch environment and Instagram backdrop. The high ceilings, open windows, and bakery counter showcasing beautiful pastries have all the makings for the perfect picture. The space is nothing short of charming–and the food is delicious! So, head south for the day and make sure your phone is fully charged. Read our review here.
Best Brunch By Neighborhood
Best U Street Brunch: District Distilling
A fresh, unique addition to the often dank, student-laden U Street corridor, we couldn't get enough of the upscale, industrial decor and amazing food at this local distillery. There is something for everyone on this menu, plus you can make a day of it by capping off your brunch with a distillery tour. Read our review here.
Best Shaw Brunch: Kyirisan
Brunch at Kyirisan began with an inventive cocktail program, bottomless mimosas, and a basket of house-made pastries ranging from cinnamon rolls to Matcha doughnut holes and vanilla custard bao buns. It only went up from there—we loved the French-Asian fare with options for everyone ranging from the arctic char gravitas on a perfect croissant to Panko fried chicken sandwich. Read our review here.
Best Bloomingdale Brunch: El Camino
Casual, unique, and without pretense, El Camino is just so Bloomingdale. We enjoyed the bottomless mimosas, chill service vibes, and food served on mismatched china. We really liked the migas, French toast, and doughnut holes. Read our review here.
Best H Street Brunch: Ocopa
Make your way to H Street for the flavored bottomless mimosas and authentic Peruvian fare at this kitschy, cool hole-in-the-wall. Ocopa slays with roast Peruvian chicken, yucca fries, and more inventive, veggie-friendly Peruvian fare. You'll knock back plenty of flavored mimosas like watermelon, mango, lavender, and passionfruit (and at that $20 price point you will not feel bad about it). Read our review here.
Best Capitol Hill Brunch: The Garrison
We're suckers for clean, American fare that's farm-to-table with French influences. And the Garrison is all that and more. The space is beautiful yet unpretentious, the food inventive, and the service impeccable. We loved the goujeres and the bison tartare—honestly we loved everything. Read our review here.
Best Navy Yard Brunch: Whaley's
We love the beautiful, airy vibes at the seafood-centric Whaley's on the waterfront. The fresh-shucked oysters and crudos were incredibly refreshing and the hearty Southern food made for a game-changing combo.  Don't miss the Bloody Marys and the pancakes—oh those pancakes. Read our review here.
Best Downtown Brunch: Pennsylvania Six
This downtown, upscale steak and seafood spot could be boring but was, in fact, anything but. Pennsylvania Six won our hearts with its over-the-top (and adorable) make-your-own mimosa bar, stocked with fresh juices, berries, and other elixirs to mix with your champagne. The meal began with a delicious ceviche sampler and concluded with the mind-blowing Dutch baby pancake topped with whipped cream and fresh berries. Read our review here. 
Best Woodley Park: Bar Civita
This casual, cute hole-in-the-wall serves up cozy, comfy Italian fare from a down-to-earth chef from Philly. We love the friendly service, bottomless mimosas, and generous portions. Grab a seat on the patio, make your way through the mimosa flavors, and indulge in the seasonal, house-made doughnuts. The Nutella doughnuts were absolute heaven.  Read our review here.
Best Penn Quarter Brunch (i.e. Best Way to Avoid Tourists): Nopa Kitchen and Bar
Despite being located literally in the same building as the Spy Museum, locals can find refuge in the refined American glam space with new American classics. If you must venture downtown on the weekend, make your way here for a relaxed, bottomless brunch. Read our review here.
Best Foggy Bottom: Blue Duck Tavern
Impeccable cuisine in a pristine ambiance is the name of the game from the experts at Blue Duck Tavern. We simply could have not have asked for anything more. The service was fantastic as was every item we tried —from the sorbet mimosas to the sticky buns.  Read our review here. 
Best Georgetown mainstay: Kafe Leopold
While not a new addition to the restaurant scene, we rediscovered the serene brunch scene at this quaint cafe. With an extensive international menu and patio seating, it's no wonder this hidden gem has been a long time M Street favorite of ours. Read our review here.
Best Virginia Brunch: True Food Kitchen
It's hard to believe the memorable and satisfying dishes at this eco-chic Mosaic District stalwart are healthy, and often times Paleo or gluten-free. We'll always make up an excuse to head to the 'burbs for this one. Read our review here.
The Worst
Worst Overall: L'Hommage Bistro
Between the lack of service, burnt entrees, and almost inedible oysters, we were thoroughly disappointed with our experience at this massive Mount Vernon restaurant. In an up-and-coming area where competition is growing rapidly, we'd be surprised if this place survives. Read our review here.
Most Overrated: Masa 14
Masa 14's time at the top may be coming to an end. The bottomless brunch deal is pretty affordable at $39, but it felt like all of the dishes tasted exactly the same (and it doesn't include coffee or tea). We'd like to see some innovation on the menu before we recommend it again. Read our review here.
Worst Service: Texas Jack's Barbecue
The food at Texas Jack's Barbecue might have been good, but we wouldn't know. The brunch service was such a disaster; severe understaffing and an unexcusable lack of communication stained our entire experience. Read our review here.
Worst Attempt at Italian: Red, White, and Basil
A good attempt at cute decor, does not make an authentic, nor delicious, experience. We wanted to like this corner bistro in AdMo, but the concept, service, and quality just didn't impress. And we take our Italian very seriously. Read our review here.
Worst Tourist Trap: Plan B Burger Bar
We were right to be skeptical of a place to be named after an emergency contraceptive. You'll need a Plan B for brunch in Penn Quarter if you hate tourists, tacky decor, and mediocre burgers.  Read our review here.