Another year of brunching is in the books! Earlier this week we gave you our Best and Worst D.C. brunches of the year and now we're awarding our favorite bites of the year—from lattes to latkes, these dishes are the best of what we ate this year in Washington, D.C. (Please note: our best bites come solely from the reviews that occurred in 2016.)
Be sure to flag this post for when your brunch cravings strike—below, you'll find where to get the best Bloody Mary, cinnamon roll, pancakes, and more in the District.
Best Matcha Latte: A Baked Joint
The sister restaurant to Baked & Wired, Mt. Vernon's A Baked Joint is all about carbs and coffee. If you're gluten-averse or dairy-free, this place is not your friend. But, if you like delicious pastries, and a delish Matcha latte, head there. Read our review, here.
Best Coffee Cocktail: The Bird
Iced coffee meets rum cocktail, this libation will keep you rolling through all of your post-brunch activities. Sip on it throughout the meal or indulge in a few. And don't forget to couple it with an order of fried chicken. Read our review, here. 
Best Bloody Mary: Bayou Bakery
For a creative Bloody, we loved Bayou's Southern take. The cocktail was served in a Mason jar trimmed with Creole seasoning, and topped with pickled veggies and olives. It was a great New Orleans inspired twist on a regular Bloody and packed the perfect kick. Read our review here.

Best Bellinis: Urbana
We love how you can make-your-own Bellinis at Urbana without breaking the bank. For only $16, you get as many bottles of Prosecco as your heart desires and three carafes of fresh fruit purees that change seasonally. We had raspberry, blackberry, and mango which were all delightful. This is definitely a great spot for large groups. Read our review, here.
Best Brunch Cocktail: Kingbird at the Watergate
It's easy to see why we loved the Sangria Blanca, a pretty pink cocktail made with sparkling rosé that went down far too easily. This chilled, slightly sweet cocktail is made with white wine, brandy, citrus juice, and a splash of sparkling rosé, topped with an orange slice. It was light, and refreshing with a tinge of citrus—perfect for a hot summer day, or any day, really. Read our review of Kingbird here.
Best Champagne Bar: Pennsylvania Six
Well decorated and anointed with "BAR" in bright lights, the champagne bar at Pennsylvania Six is what basic Bitch dreams are made of. Order a glass of Prosecco for $8 or a bottle for your table, then make your way to the mimosa bar to select fresh-squeezed juices, berries, elixirs, and more. We went wild: mango juice and raspberries, peach juice and rosemary bitters, and so forth. Have a few and before you know it you're a mixologist. Read our review, here.
Best Gluten-Free Dish: Chocolate Cake at True Food Kitchen
It's rare that you find a delicious gluten-free dessert, especially one that you would prefer over gluten-full options. The flourless chocolate cake at True Food Kitchen set the bar high for all subsequent desserts. It comes served with one of three ice creams–we selected the dairy free Maple coconut ice cream and it was heavenly. Read our review here.
Best Breakfast Pastries: Kyirisan
The pastry tray at Kyirisan is nothing short of an experience, as the in-house pastries are prepared in the French fashion with Asian influences. The classic croissant was one of the best we've had in Washington and immediately transported us to Paris. There were also vanilla custard bao buns, chocolate caramel turnovers, and doughnut holes filled with flavors of red miso, Yuzu Matcha, and cinnamon sugar cherry jam. Order the whole shebang at brunch, so you don't miss a thing. Read our review here.
Best Doughnuts: Bar Civita
The doughnuts are made in-house at Bar Civita, and change seasonally. On our visit, we found bliss with the Nutella yeast doughnut sprinkled with sea salt to balance the chocolate meets hazelnut flavor. The Krueller doughnut was essentially a fluffy churro crossed with a doughnut, fried to perfection, and dusted with cinnamon sugar. Hello, heaven? We're here. Read our review here.
Best Cinnamon Roll: Convivial
Chef Cedric has received lots of praise for Convivial, and it's well-deserved. The brunch was hearty and decadent, with American favorites like chicken and waffles presented with a French touch. The classic cinnamon roll was unfathomably rich, oozing with cinnamon sugar glaze, and served piping hot. It was the perfect end to a gluttonous meal that had us happily rolling back into bed on a cozy winter's day. Read our review of Convivial here.
Best Dessert: Junction Bakery
The pastries are as scrumptious as they are photogenic in this Del Ray locale. The monkey bread, paleo muffin, and apple galette won our hearts. However, the real winner of the day was the chocolate galette! It was creamy, smooth, and dense. If you need an excuse to head to Alexandria–this dessert is it. Read our review here.
Best French Toast: Espita Mezcaleria
Shaw's Mexican Mezcaleria, Espita, makes a French toast that's inspired by Tres Leches cake, in that it's soaked in cream and sugar until it's so moist it melts in your mouth. The French bread is soaked, flavored with a smoked agave, and topped with cooked bananas and whipped cream. Read our review, here.
Best Beignets: DNV Rooftop
Pools and doughnuts don't go hand-in-hand. We know. But, we love a good doughnut. In fact, we make sure to order them whenever they're offered on a brunch menu. So, when we saw the French, deep fried version of the pastry on DNV's menu we gave in and we're glad we did. It's like funnel cake dipped in strawberry shortcake icing. Read our review, here. 
Best Avocado Toast: The Riggsby
This trendy dish may be played out, but we love The Riggsby's inventive spin on the hipster plate. The bite-size portions and fresh crab meat on top of the avocado toast left us wanting more. Read our review, here. 
Best Poke: Hula Girl Bar and Grill
2016 was the year poke came to D.C. This raw fresh salad is a staple in Hawaiian cuisine, so it's no surprise our favorite came from Hula Girl Bar & Grill. Served on a bed of sushi rice, and surrounded by watercress salad, kimchi, cucumbers, pickled daikon-carrots, and green onion, this ahi tuna poke bowl nailed it. Read our review of Hula Girl here.
Best Cheese Plate: Osteria Morini
The battilardo cheese plate was on point, but you can't miss the inventive burrata appetizer at Osteria Morini. This housemade mozzarella is juxtaposed with fresh melon and hazelnuts for a sweet finish. Read our review here.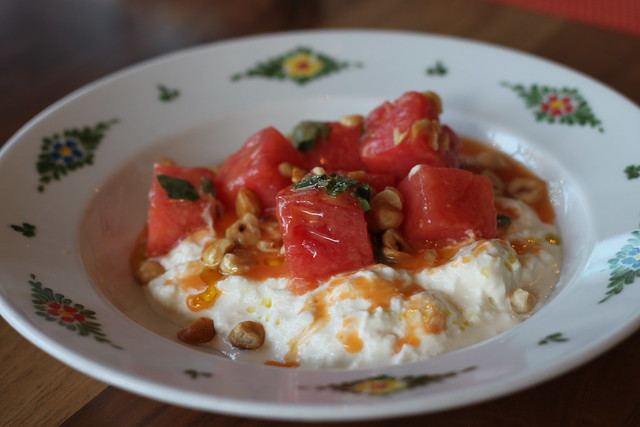 Best Veggie Burger: Zaytinya
The beautiful falafel burger is topped with a fried egg and cucumber tzatziki. We thought the falafel patty had great flavor and thankfully wasn't dry at all. The egg and tzatziki were winners too. The side of fries were unique as they were seasoned with sesame, cumin, and dried mint and the garlic yogurt dip was an inventive accoutrement. Read our review here.

Best Beer Brunch: Dacha
Dacha is a summer favorite with shared tables, schnitzel and an impressive list of beers on tap. The beer garden provides a laid-back yet lively atmosphere for people of all ages including families with young children and dogs. We highly recommend the Stiegl Radler for a brunch beer. The grapefruit beer is perfectly refreshing for a sizzling summer day. Check out the review here.
Best Chicken and Waffles: Crisp Kitchen and Bar

One bite of the O.G. chicken sandwich and we knew that baby would make it onto this list. Crisp has perfected the fried chicken trifecta (technical name)—it's chunky, juicy, and crisp, as expected. The waffles were insanely moist, they tasted like cornbread cake, which was the perfect palate cleanser to the spicy Nashville fried chicken. Read our review here. 
Best Arepas: Zengo
The Achiote-hoisin pork arepas were our favorite bites at this all-you-can eat brunch. The pork was tender and dripping with sauce, but still fit perfectly atop the crispy corn masa, finished with a dollop of crema fresca. We wished we had ordered this first, so we had more room for seconds. Read our review here.
Best Waffles: Belga Café
It's obvious that you should trust the Belgians with your waffles—and Belga Café is Washington's classic Belgian spot. The brunch menu offers no less than a dozen different waffles, from savory to sweet. Don't miss the Nutella banana waffle, topped with whipped cream and fresh berries—it's as good as it sounds. Read our review here.
Best Frittata: Sally's Middle Name
This H Street spot serves up a mean frittata. The fresh ingredients during our fall visit were blue cheese, caramelized onions, and tomato. The blue cheese gave it an unexpected sharpness that made for a unique egg dish. Read our review here.
Best Pancakes: Whaley's
You go to Whaley's for the seafood, and you stay for the hearty Southern goodness. We loved the dense yet fluffy buttermilk pancakes, topped with sliced apples, hazelnuts, and a sweet whipped mascarpone. Read our review here.
Best Breakfast Pizza: Alta Strada
Love bagels and hate that D.C. has zero bagel game? We've found your solution: the Everything Bagel pizza at Alta Strada. Michael Schlow's version is literally a pizza with bagel crust, topped with heaping helpings of smoked salmon, mascarpone, tomato, capers, and red onion. Read our review here.
Best Crab Cakes: Marcel's
The brunch at white table clothed institution Marcel's was more like lunch with mimosas, not that we were complaining. The service was incredible and the classic dishes divine, but the crab cakes knocked our socks off. The cashew-crusted jumbo lump crab was curry flavored and incredibly moist—made with a mayonnaise and curry base. It was sprinkled with black sesame seeds and served with a Napa cabbage slaw. Read our review here..
Best Classic Breakfast: The Jefferson
If you like to eat clean, or like a classic breakfast, an upscale hotel is your best bet for brunch. No one does it better than the Jefferson, which serves up a classic breakfast plate of eggs of your choice, meat of your choice, and potatoes with a roasted tomato on beautiful blue and white china in a pristine environment. Read our review here.
Best Latke and Lox: District Distilling Co.
We didn't know what to expect from brunch at a distillery and certainly the last thing we anticipated was to taste the latkes of the year. They were crispy, greasy and served warm, topped with the freshest lox, and a deliciously creamy aioli. Read our review here.
BitchBiz: Bitches Who Brunch partners with EatWell DC. While this guide was written independently, we do receive compensation from the company.